| | |
| --- | --- |
| | |
Home Bar Basics (Continued)
Three years ago I decided I desperately needed a walk-in closet. It's a long story I'll spare you, but one master suite, a new bathroom, sunroom and patio later, I had my first home bar! I had a limited amount of space (5'X2') so I decided a walk-up bar was the right choice.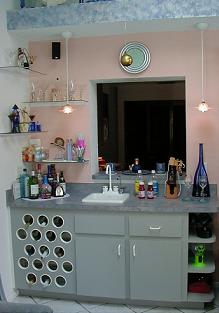 Besides, the rule in my house is; I fix the first one, then you're on your own. The bar provides space for glassware, display and enough workspace to get to all of the essentials.
Wine and Martini service was a must, so a wine rack was built into half of the lower counter reserving the rest for storage. (Read my next article "Home Bar Martini Madness" to find out what's in the little red toolbox on the bottom right shelf).A pass through counter replaced the old kitchen window in the sunroom renovation making for easy garnish and Hors d'oeuvre service. Since the plumbing was already in place, the bar sink was easily built in. Today's home bar can be versatile, functional and FUN. This is a place where you can let go a little and break some of the traditional design rules. Just remember to Think It Through and call me for Happy Hour!
---
---
CampTracker Reservations System
© 2003-2017 JMH Partners, Inc.